Hey Coach! Mel here 🙂 I've got an exciting resource to share with you!
My good friend Stacie Mahoe and I were having a convo yesterday about ALL the things we coaches have to juggle and she shared these awesome coaching cheat sheets with me.
Because our focus is mental game… And coaches having some more brain space is HUGE for our own mentality and focus, right?!
I think they'd be SUPER helpful for a new(ish) coach or an experienced coach who doesn't have the time, who likes making sure they have their bases covered (pun intended!)
Full disclosure:
Stacie agreed to split the proceeds with me in exchange for marketing this for her. That means I'm putting my name behind it too!
I've gone through all the sheets, and even as an experienced college coach (read, I "should" know all of this stuff already), I'm going to use it when I return to coaching!
Ok enough from me! Here's a note directly from Stacie on what you'll get!
(Or just click here if you're already sold!)
---
Aloha Coach!
In my first year as the head coach of a competitive team, I remember what a headache dealing with parents and "administrative" tasks was.
A handful of parents think they can run the team better than you.  Another bunch thinks their daughter isn't getting a fair shake. There are logistics to think about, stats to keep, paperwork to be done, all while trying to help a group of young ladies become successful on and off the field.  Plus you probably have a day job and maybe even a family to take care of full time too.
That's a LOT to handle!  I get it.  Believe me.  I don't work outside the home, but I have 8 kids, run websites, and help manage some Facebook groups.  I understand wearing many hats 🙂
Softball season can get crazy and it's very easy to get off track and waste valuable time.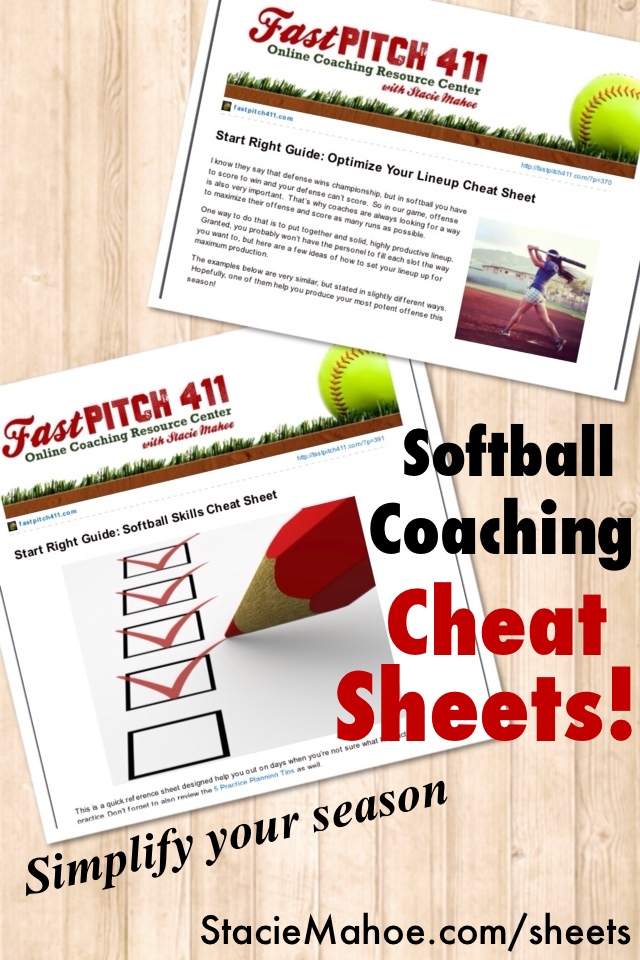 That's why I want to help take care of some of the basics for you.  Get 13 Softball Coaching Cheat Sheets to…
Make your coaching life easier
Help you plan effective practices
Take some of the load off your shoulders
Provide you and your staff with clear, concise resources and guidelines to refer back to
Help you make better coaching decisions
Easily collaborate with your coaching staff and come up with strategies and plans that work
Help you figure out what next step will help your team the most
Help you make sure nothing important falls through the cracks
13 CHEAT SHEETS:
– Preseason Planning –
– Hitting Signals –
– Hitting Practice –
– Throwing Skills to Practice –
– Fielding Skills to Practice –
– Defensive Practice –
– Pitching Skills and Pitches to Practice –
– Catching Skills to Practice –
– Baserunning Skills and Situations –
– Master Softball Skills to Practice –
– Miscellaneous Softball Skills –
– Softball Position Numbers –
– Optimize Your Lineup –
+ 2 CHECKLISTS
– Coaching Equipment and Supplies Checklist –
– Softball Coaching Bucket Checklist –
+3 TEMPLATES
– Sample Parent Meeting Letter –
– Sample Practice Plan –
– Sample Practice Plan Template –
When you're in charge of a team full of young ladies, all kinds of "fun" issues can come up. These checklists help ensure you're prepared for anything!
Believe me, I've seen and been through a bunch of them!  Over the years, I put together a useful list of essentials to bring along everywhere we go.
These essentials help you put the small fires before they turn into full blown emergencies that hamper team performance and negatively impact the outcome of a game.
THAT'S A TOTAL OF 18 SOFTBALL COACHING RESOURCES!
If that's not enough, I also give you 10 different ways to use these cheat sheets, plus ideas on how to use them before the season, how to use them during the season, and how to use them in collaboration with your staff!
Total Value: $24.95
You pay only $17!
Yep. I'm sold!